S: Our private gender scan was all planned in at 19 weeks so that they could write it down for us (as apparently the NHS can't do that). My brother would do a small reveal to us which is something he said he had thought about for years. Neither Jack or I wanted a big gender reveal party but I also didn't want to find out in a scan room so a small family gathering was the perfect compromise.
E: Soph had asked me about going for a gender scan earlier than 19 weeks, I felt we should wait to as close to 20 weeks as possible to find out the gender as with Mollie they'd told us she was 69% a girl, and I just thought that would be really annoying for S&J especially with doing a proper reveal! So they decided to wait until nearer the 20 week scan when it would be more likely they could tell properly. Telling Soph to wait is like telling a child not to touch a sweet which is right in front of them ha!!
S: One of our girls hosted a Halloween dinner a couple of weeks before our gender scan was planned in and we were all sat there talking and I got a bit overwhelmed with everything! I genuinely believe my brain hasn't caught up with the fact that this is finally happening. We got onto talking about the gender scan and I spoke about just needing to know now. One of them turned around to me and said why are you waiting just go tomorrow! I looked at Em and she said let's do it! We would be 17 weeks at this point. Everything else seemed to fall into place – there was an appointment available and my brother was free to do his reveal!
E: I could see Soph was struggling with the talk we were having around the table and I just thought, well, why not. Obviously it's always been her choice, but we all just happened to be around the next day, so it seemed like there was no harm! We'd also had the NHS appointment through which was the day before the family gender reveal, so if they weren't sure at the private scan, at least they'd have that to fall back on!
S: I didn't tell Jack where we were going until we were on our way to the scan! He was pretty shocked but knows I'm impatient so actually wasn't surprised! James was at work so it was just the 3 of us. We went back to Watford (Window to the Womb) only because it had an appointment available but I didn't care that I hadn't liked it there last time!
E: I felt like a secret squirrel being bundled into their car to go off to the scan- it was a lot of fun!! We were all excited to see the baby again too!
S: We told the sonographer we didn't want to know the gender in the room. The scan was just incredible. The baby had grown so much in the 4 weeks since we had last seen it. You could clearly see the spine! She then flicked onto 3D mode. Not the prettiest image in the world 😂 and the baby looked like Voldemort but as soon as we saw it all 3 of us said OMG that looks like a boy! She told us to not look at the screen whilst she figured out the gender. The baby had its legs crossed a while but a few coughs from Em and she had it!
E: I've never had an inkling as to what the baby was, but when we saw the 3D scan I immediately thought boy!
S: I probably shouldn't have asked but I wanted to know from the sonographer how sure she was of the gender. She said 99.9%. In that moment and gut feeling I felt it was a boy!
S: It's probably about this time that I should say since I was 15 I've only ever imagined we would have a girl and I think this feeling intensified during the 6 years we tried for a baby. I visualised her and the name we had always chosen. I'm a girly girl and I had saved so much on my phone – all pretty girly stuff! So a big part of me was like I think my gut still may be wrong and it could end up being a pink one!
E: Working with mums a lot, I know how gender can be such a big part of the bonding process for some. I did think that finding out would be a good idea for S&J to help them visualise and start that bonding process- and now I was thinking it was a boy I knew Soph would need to prep herself in so many ways! I don't think anyone should ever be ashamed of that feeling of wanting a boy or a girl, but allowing yourself the time to process a different outcome is so very important.
S: Jack and I went off for lunch with the sealed envelope and the plan was to head back to ours that evening to meet Em, James, the kids & my brother Luke there. Because it was last minute my mum and dad were around so they came too, but Jacks family would come the next day. The closer it got to heading home the more my stomach kept going over!! I felt very sick by the time we got back to the house!
E: We got to the Smiths house a little bit before S&J and got some time with Sophs family. It was really nice to catch up with them all, and hear their sheer excitement too. Sophs Dad gave me some gorgeous flowers and her mum gave me my November gift- a lovely voucher to have my nails done! The mood was full of excitement and I think Soph was a bit overwhelmed when she got home to us all waiting. But these are the exciting times they have to cherish.
S: I gave the envelope to my brother who said he needed 10 minutes to organise his reveal! Jack and I managed to down a glass of prosecco in about 2 of those minutes!!! We all waited in the kitchen and then he shouted he was ready. Countdown on 5,4,3,2,1 and the door opens….
I didn't notice at first but when I did my face must have been a picture! (Well it was a picture and there is evidence of this!). In runs Lola our Cockapoo doggy in a little blue shirt! It's a BOY!!!!! A blue one!!!! OMG a boy??? But we were always meant to have a girl?? OMG my gut was right at the scan! It's a little mini Jack! Honestly I have never experienced sudden shock in my life until then! The tears flowed and there were lots of cuddles! Mum had been out and bought a girls outfit that day because she had been so convinced so her face was also hysterical!  I then called our closest friends and said I couldn't wait another 2 weeks to tell them!
E: Even though I was thinking probably a boy from the scan, I was still shocked when Lola came running out with a blue coat on! Best reveal ever!!
S: I woke up really early the next morning and immediately said to Jack 'I just can't believe it's a boy'. I was so excited to tell Jack's family that evening! We got them all over and they all had final guesses. Most of them said boy and our only nephew Max was so desperate for another boy in the family (we have 4 nieces and 1 nephew). We did the same as the day before and let Lola run into the room! Cheers and tears! With my sister in law screaming on FaceTime as she had a sickness bug so couldn't be with us. We spent the next hour putting boys names into the middle. Some very questionable choices!!
I read a quote from a lady like me who had also only ever visualised having a girl and it all suddenly made perfect sense.
'' I thought I knew what I wanted but I got what I needed''
It has actually sunk in that nothing about this journey was ever as I imagined and this little miracle boy was meant for us! 💙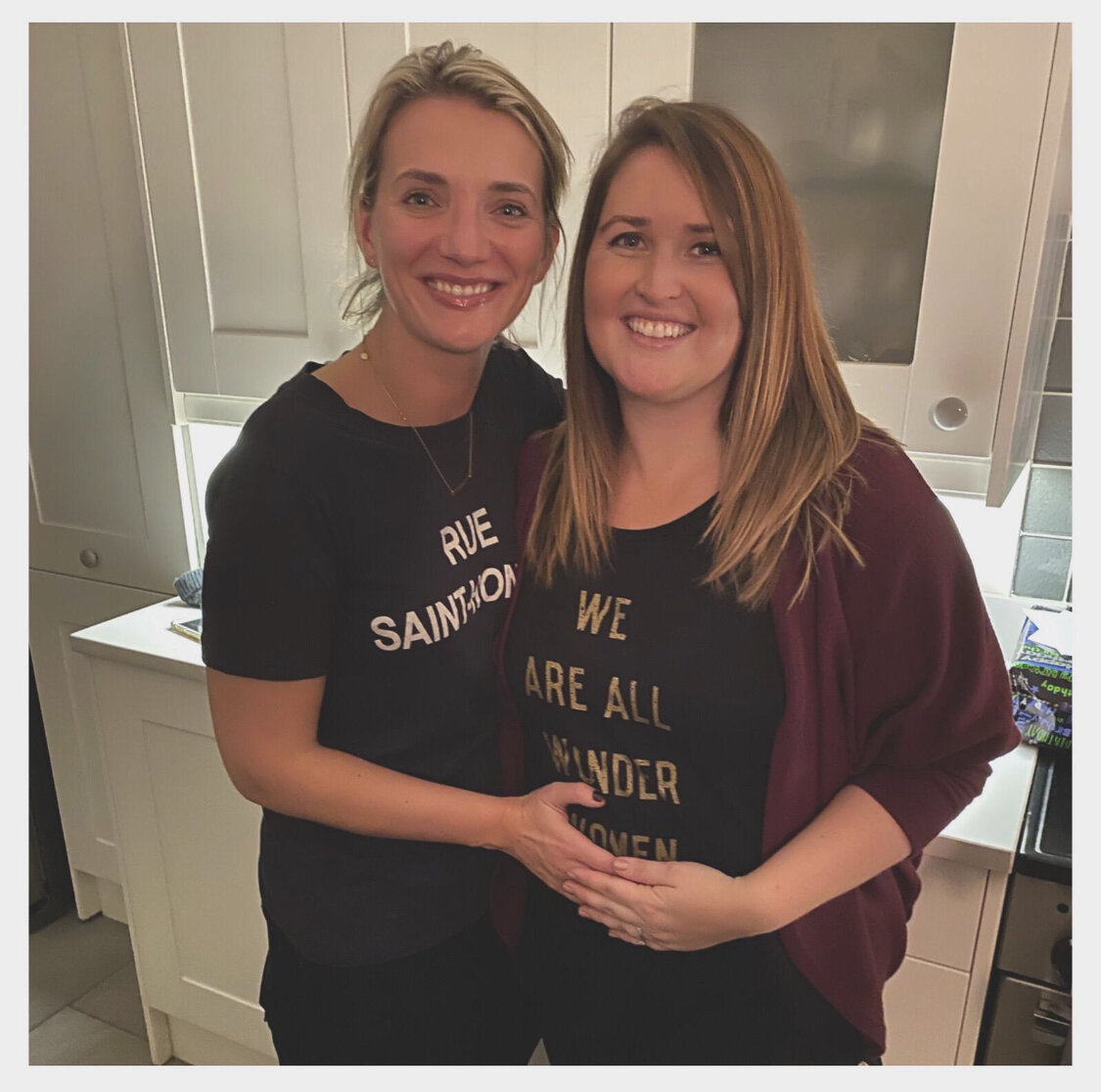 Follow Us
Instagram is where we share free Mindful Birth
related content straight to your feed.