S: I never imagined I'd finally make it to the Baby Show which was obviously quite a big step for me. Em and one of our other best friends drove up there late morning and I felt pretty excited! Part of me did feel like a fraud because I wasn't pregnant but I constantly have to remind myself it's probably natural for me to feel that way and I am having a baby regardless!
E: It was actually really nice to go to the show without it being for work or needing to buy anything at all! It helped it was Sunday as it was a bit quieter! The nicest moments were seeing Soph try on a sling and get excited by bargains on bibs! Also her asking advice on prams and muslins etc. We even split the cost of a bumper box of eco friendly wipes… who knew a wipes purchase could be so exciting!!
S: I really enjoyed looking at all the things I've never really looked at before. I loved the little independent stalls. We also had a look at the prams which I did find pretty overwhelming! So much choice how do you decide?! I'm not sure I was ready to look at the big stuff! Only a few purchases made but the experience meant a lot.
This was the first time I'd seen Em in a couple of weeks and our small bump was definitely there now which was so odd but I felt really proud aswell!
E: I have to say this has been the slowest part of the whole process as we didn't have any appointments or scans for 4 weeks! That's the same for any pregnancy but we've just been so used to having SOMETHING in the diary almost weekly!
S: Our 16 week midwife appointment was the first time I would meet our official midwife Geraldine and I had heard lots of amazing things about her. She was so very kind to us from the offset and was very mindful to see how I was feeling and ask my thoughts on things which I thought was lovely. I'm not sure why I expect anything else of people who have been so lovely up until now.
E: I was really excited about this one as I'd finally get to introduce S&J to Geraldine- the midwife who I had seen throughout my pregnancies with M&T. She has a special place in my heart as I didn't know anyone who was pregnant with my first pregnancy and she was someone I came to trust implicitly and who educated and gave me all of the info I needed to decide on having M&T at home. So seeing her again in these circumstances was really special!
S: The midwives advised there may be a chance we wouldn't hear the heartbeat in the appointment but it was up to us if we wanted to give it a try so of course we did. Initially the first midwife struggled to find it so Geraldine swooped in and there it was loud and clear! 145bmp sounding like a galloping horse! WOW just incredible and the reassurance we got from that was amazing.
E: I had Theo with me at this appointment so there we all were, me lying on the bed with him, Jack filming, Geraldine and a student midwife (Vicky) all huddled in this little room waiting for this little heartbeat to ring out over the Doppler. In Geraldine's words, it was 'perfect' ❤️
S: The next midwife check up is at 24 weeks but before then we have a private gender scan and 20 week NHS scan booked in so that is the next date we are focusing on. Come on halfway point!!!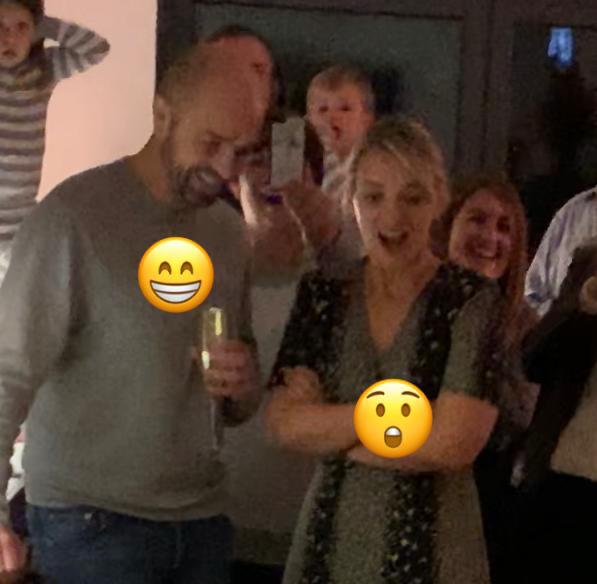 Follow Us
Instagram is where we share free Mindful Birth
related content straight to your feed.