For my first blog post, I'm going to talk openly with one of my closest friends about our journey to me being hers and her husband's surrogate for their biological baby.
Soph and I have been friends for nearly 20 years, through the highs and lows of teenage hormones, kissing too many boys, drinking whole bottles of vodka (with no hangovers!) and then living our best lives in our 20s. We travelled around New Zealand together, skydiving and drinking cocktails from teapots, countless trips to Ibiza, always dancing, laughing and living life to the full. 
Then our 30s hit, and life suddenly got a bit more serious.
Here is our surrogacy story so far…
S: We have always wanted children and officially started trying for a baby 5 years ago after seeing as much of the world as we could. We got pregnant within 7 months and were over the moon taking that first positive test! We told all our best friends and family the moment we found out by putting a photo of the positive test on their Christmas cards. There were lots of tears and excitement!
E: I knew I wanted children with James eventually, but I majorly put it off as I was terrified about giving birth. James couldn't wait to have kids, and it was Sophie who, ironically, actually convinced me to start trying (much to James' delight!). When they showed us their positive test, I thought maybe I could get through it if my bestie were doing it too! I was on the phone with her when I bought my first pregnancy test in December 2014, as even that terrified me!
S: Just after Christmas 2014, Em called me telling me she had some news and we would expect our babies a couple of weeks apart. What you always dream about is sharing maternity leave with your bestie! That same day we went for an early scan as I had experienced some stomach pain. As soon as the nurse went quiet, I knew something was wrong. We were rushed to a&e, and I was diagnosed with an ectopic pregnancy in my left tube at 7 weeks pregnant, which can be life-threatening if not treated immediately. This resulted in tube removal. It was terrifying and emotionally heartbreaking.
E: When Soph and Jack told us they were going in for a scan and we didn't hear from them for a few hours, I felt physically sick. Then, when they confirmed the worst, I felt an element of guilt that my pregnancy was fine so far. I held onto hope that they'd conceive again soon but also selfishly felt scared that I'd be slightly ahead of her- I wanted her to go through giving birth first!
S: After a few months, we started trying again, and I was adamant this wasn't the end of sharing our baby experience with Em. We managed to get pregnant naturally a few months later, but this ended in an early miscarriage.
E: Time was edging further out, and our dream of being on maternity leave together passed us by. Not that it really mattered anymore- we just wanted S&J to conceive again.
At around 32 weeks into my pregnancy, I stumbled across hypnobirthing, which changed everything for me in more ways than I could have imagined now.
Soph and another good friend organised the most beautiful baby shower at her own home. She never flagged in her support for my journey.
S: In September 2015, Em's little girl was born, which was an incredibly happy occasion but also marked a tough time for Jack and me.
E: My baby girl was born at home in a pool. This was a 360 turnaround to my outlook on birth, thanks to hypnobirthing. I had no doubt S&J would love our little girl as if she was their family, and we asked them to be her legal guardians as it was vital to us that they knew how much they meant to us
S: Further tests showed I had a low egg reserve, and the NHS advised us to go for private IVF immediately (as the waiting list was 2 years because we had conceived), and with one working tube, we just didn't have time to wait.
Over 18 months, we went through 4 rounds of IVF in 3 different clinics. Hundreds of injections, numerous scans, egg collections, chromosome testing, and 4 transfers. From these rounds, we got pregnant from 3 out of 4 transfers. Unfortunately, all ended in either early miscarriages or chemical pregnancies.
In September 2017, after another loss, I hit rock bottom emotionally and mentally. I couldn't leave the house, let alone go to work. My brain and body shut down. The grief of losing so many pregnancies hit me, and I wanted to be a mum more than ever. Instead, I was surrounded by people who didn't even have to think about it, and they would get pregnant.
E: Watching your best friend go through the sheer torture of infertility is heartbreaking on many levels. However, I didn't feel guilt anymore- I was/am proud of my children and being a mum. I started feeling like I wanted to help in some way. I'm a quietly spiritual person and believe I overcame my birth fears not just for my own children but perhaps to help Soph and Jack.
S: Em forced me out of the house for a day, and we went to see the local sunflowers. At this point she turned to me and said, 'I'll carry your baby, I can't see you go through this anymore, and it's 9 months of my life for the rest of yours'. At the time, I was utterly overwhelmed and thought she was amazing for even thinking about it. However, I still wanted to carry my own child and wasn't ready to give that up.
To ensure we knew she was serious, we also received a letter from her and her husband James with their kind offering regarding surrogacy in writing. This is the point where I knew she was completely serious. I should also point out that at this stage, she was 6 months pregnant with her second child!
Ems son was born on New Year's Eve, 2017, and the first thing she said to me when we got the call was – 'don't worry, it hasn't put me off. I still want to do it for you'.
E: Life definitely works in unexpected ways. Whilst expecting Theo, I trained to be a hypnobirthing teacher and have set up my teaching business whilst on mat leave. I wanted to help other women in the way it had helped me. But I believe it's also allowed me to be very open and willing to help Soph and Jack bring their own baby into the world.
James is, of course, a very important part of me offering to carry S&J's baby. I think him seeing Jack in so much emotional pain over the years has made it an easy decision for him too. We often say, "9 months of our lives for their whole life to change." He's 100% supportive of our decision but has always listened to my concerns or double-checked with me on numerous occasions before we sent the letter together
S: In 2018, I took a 9-month career break, and we travelled to Australia for a few months. I had 4 close friends, all pregnant at the time, and we both needed some space from the infertility bubble. It was on this trip we both decided that neither of us emotionally, mentally, financially, and for myself physically could keep doing the same IVF routine and the most important thing was our end goal of having a baby. Jack was even more adamant he couldn't watch me go through it anymore; without his full support, it would have been much more challenging to make the decision. If it meant I gave up hope of carrying our child, then so be it. If surrogacy could end our pain, it was worth giving it a shot.
On the last day of our trip in LA I found out I was pregnant again but immediately started having severe stomach pains. Once back in the UK, it was confirmed this had sadly resulted in a further ectopic pregnancy in my right tube ending in my only remaining tube being removed. The final nail in the coffin and more than any couple should really have to deal with.
We came home and sat down with our friends and discussed going ahead with our surrogacy plan, and they were both so reassuring once again over this. My main concerns were how she would feel carrying and handing over a baby and how I would feel when that baby arrived, which I am still unable to fully answer.
E: Whenever I tell people who don't know S&J about our surrogacy plan, I often get asked how I feel about handing over their baby. I think if they had travelled this horrendous journey with the two people in the world who are meant to be parents more than anyone, they'd know there would just be no question about it. I will be to their baby what they are to mine and James' babies.
Their family is the more exciting part of the story for me- Soph's mum recently sent me the most emotional letter. As we regularly speak about it openly with S&J, it's already built into our lives. But the thought of giving their parents a grandchild kind of blows my mind a bit.
S: In July last year, we underwent our final round of IVF to get embryos for transfer. We have since all had counselling, sorted our wills, screened blood tests and have our plan in place. We have 2 normal embryos, of which we will transfer 1 via surrogacy in 2019.
E: The formalities and tests are necessary, but the process is a million miles away from traditional conception. My eyes have been well and truly opened, and I just know that S&J and anyone else undergoing IVF are complete warriors.
S: I think we all know there will be hurdles along the way but are focusing on the light at the end of a very long dark tunnel, and I will be forever grateful, even if it doesn't work, that she tried to help us 💗
E: I'm going to share our journey whenever it feels right for all of us to do so- actual appointment dates won't be shared, but I will talk about what happened in them afterwards. There isn't enough information or support for women who want to offer surrogacy in the UK, so maybe some of my blog posts will help someone out there.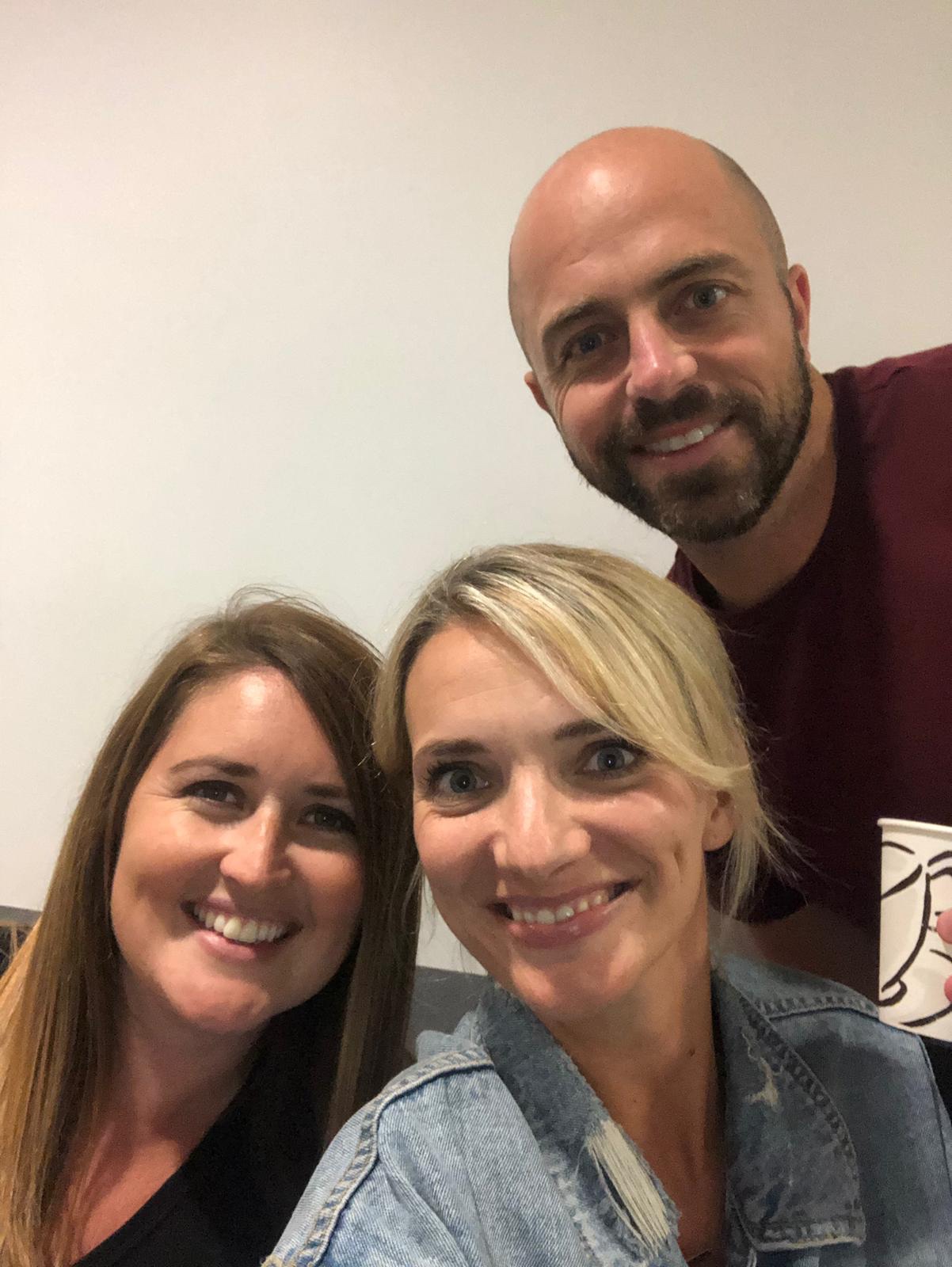 Follow Us
Instagram is where we share free Mindful Birth
related content straight to your feed.