Prepare for birth, baby and postnatal recovery
The courses are taught live by qualified Mindful Birth Group® teachers in a format that suits you best, and tailored to your individual needs.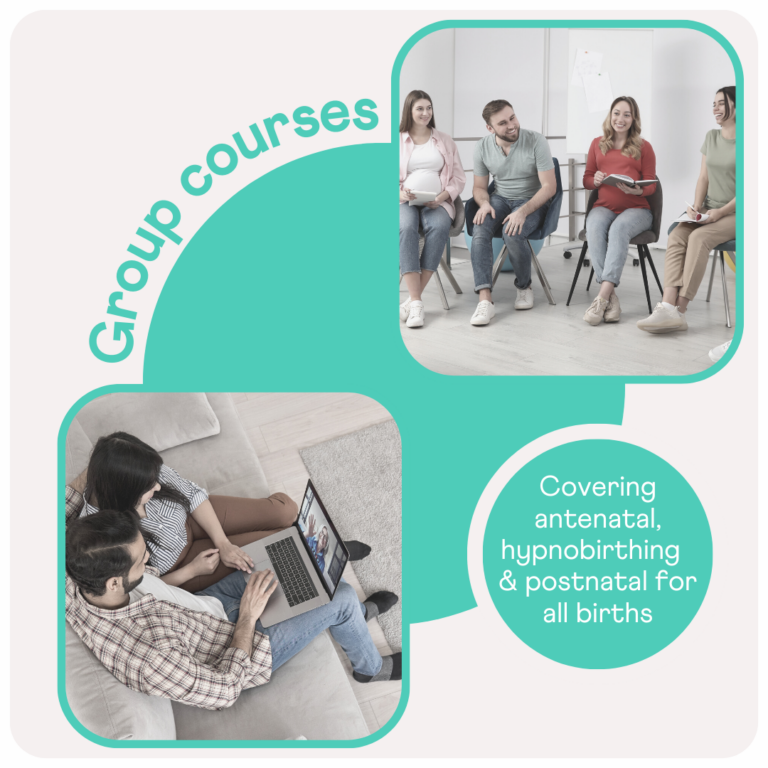 Keen to meet others and learn in a group setting?
Duration: 8 hours of live learning
In-person courses: £384 / Zoom courses:  £330
Price includes access to the Parent Hub app for up to one year post-birth.
Choose your birth preference (vaginal or caesarean birth) when searching for your course.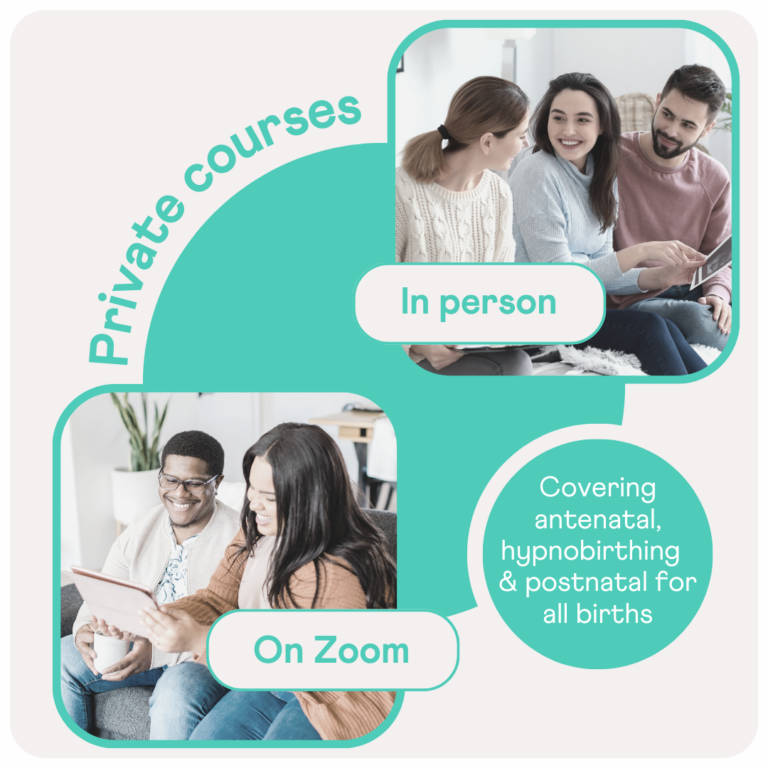 Prefer to learn 1:1 in the privacy of your own home?
Duration: 6 hours of live learning
In-person courses: From £425 / Zoom courses: From £380
Private course prices are set by each local teacher, please complete the form on their profile to enquire. Simply share your birth preference (vaginal or planned caesarean birth) and any other information about your pregnancy/birth needs at booking and your teacher will tailor your course to your individual needs.
When should you book a course?
Most people take their course at around 24-30 weeks, but it is never too early or too late to learn.
The earlier you sign up to your course with us (anytime from 12 weeks) the sooner you can make use of the online PregnaHub™ support. However, we also have many parents joining us from 30 weeks onwards, as there is so much to gain for those later weeks of pregnancy and postnatally too!
If you have any questions about the courses, then just ask us.
Your Options
If you would like to birth your baby vaginally:
How to know when labour is starting
The stages of labour and how to support each stage
When to go to your chosen birth place or ask your care team to come to your home
Birth place options and the differences between them (Home, birth centre, labour ward)
Comfort measures and pain relief options
Induction methods and the risks and benefits of each
Navigating unexpected turns, including unplanned caesarean and assisted birth
Writing your birth preferences & sharing them with your midwife / consultant
If you are having a planned caesarean birth:
Preparing for an abdominal birth with your care team – questions to ask to help you to prepare
The day you meet your baby, what to expect and how you can adapt certain elements to feel more connected to the birth
Postnatal recovery options and important aspects to know
Writing your birth preferences & sharing them with your midwife / consultant
Your Body
How to adapt your environment to support the stages of labour (vaginal birthers) and support the hormones of parenthood (all births)
How to create the optimal pregnancy, birth and postnatal environment however or wherever you meet baby. This is key for both your emotional and physical wellbeing
Your Mind
We take a mindfulness-based modern approach to hypnobirthing to ensure the tools apply to all birth scenarios, especially when so much is unknown. These tools will support you to feel relaxed and connected throughout your pregnancy and birth, however birth happens. They are also completely relevant for life, not just birthing!
Understanding the mind-body connection
Breathing techniques
Visualisation techniques
Positive affirmations
Relaxation audios
Postnatal Recovery
We know that this is the part that a lot of parents don't prepare for. It's normal to think about the baby, and how to care for them. But what about you and your recovery? We educate you on what to expect in the hours, days, weeks and months post-birth and how to prepare for this incredibly important time. How you recover from birth really can pave the way for how you experience the early years as a new parent, and sometimes the rest of your life if it is a particularly difficult time. Read more about this part of our support here.
Caring for baby
As part of your course, you will be given access to the online PregnaHub™ which hosts a comprehensive library of evidence-based, supportive information to prepare you for meeting your baby. We purposefully set this part of the course up as on-demand videos and reading so that you can refer back to it even when baby is born. We also like to keep it up-to-date as new study findings are released and new resources become available.
As part of the course you'll be given:

Relaxation
Album

Affirmations &
course guide

Teacher support
via WhatsApp
Parents rate us excellent on Trustpilot
The PregnaHub™
We know from studies that a lack of support throughout pregnancy and the postnatal recovery period can raise the chances of developing perinatal and postnatal anxiety and depression.
We have designed the PregnaHub™ to ensure that you are supported every step of the way. Through our live and on-demand support, you will be able to mentally and physically care for yourself, talk to people on similar paths and ask experts questions whenever you need to. This doesn't stop once baby is born, we are here for you throughout the first year of your baby's life, which is when new parents report feeling the most vulnerable  and unsure.
As soon as you book your course with us, you gain immediate access to the PregnaHub™ which includes:

Weekly
pregnancy yoga

Relaxation
sessions

Ask the
midwife

Moderated
online community

Baby-care
e-learning zone

Parent and
baby yoga

Breast and bottle
feeding support
Want a better experience with the PregnaHub™?
We offer a 7 day free trial subscription if you would like to try it out
Want to learn more about the areas we cover?
Hear about the course from our founder:
FAQs
I'm thinking about taking a hypnobirthing course and booking NCT, do I need to this as well?
We are very proud to say that our course covers all of your preparation and ongoing support needs. So many of our past clients have said they wished they had just signed up to a Mindful Birth course, as they learned everything and more with us vs. taking multiple courses. We include the evidence-based education and invaluable relaxation techniques, which can be applied to all birth scenarios. That really is the beauty of mindfulness. If you take a group course, you will also meet others due at a similar time to you, and don't forget our online, location-based community too!
Can I pay in instalments?
Yes, we have partnered with Klarna for a 'buy now, pay later' option or Clear Pay for a 'pay in 4 instalments' option. You then have the flexibility to pay the instalments off earlier, if you would like to.
You can also pay in one payment too.
I'm 30+ weeks already, is there any point in joining?
Yes, absolutely! You would still have a number of weekly pregnancy yoga sessions to make the most of, which are so great for those final weeks to stretch and release tension in the body. You would also have access to the monthly relaxation session too… again SO good for those final weeks!
Don't forget that the online communities are tailored to different paths to parenthood and pregnancy situations too- so having access to those to meet people and ask questions will be invaluable at any stage of your pregnancy too.
For after the birth, there are SO many benefits! Including:
Educational baby care videos including breast and bottle feeding, baby sleep, baby carriers, day to day baby care (think nappies, dressing them and practical things to consider!), choosing childcare and finally, weaning.
1 hour postnatal doula session on Zoom, taken in the 4th trimester
Parent & Baby yoga sessions
Moderated & safe online community. Chat about general pregnancy, birth or postnatal related topics or join spaces that connect you with parents on a similar path to you.
So yes, even if you are squeezing your course in at 34 weeks…. you will still have SO much to gain from joining The Mindful Birth Group®.
What if I need to change course dates? It's a long way away!
It's absolutely fine to change course dates or venue (if you are moving house, for example). We just ask for as much notice as possible.
If your 1st choice of course format is not available in your new location / new date preference, we will always offer you a suitable Zoom course option.
Please refer to our cancellation policy here.
What topics are covered in the baby-care learning videos?
We've included the topics that we know parents find really helpful to have a heads up on ahead of the birth, and then return back to once baby is born too:
Baby feeding, with Kathryn Stagg IBCLC
Baby Sleep, with Lucy Smith from Days and Dreams Sleep Consultancy
Baby wearing and slings with Wrap a Hug
Baby First Aid with Daisy First Aid
Baby changing and practical things to think about for bringing baby home, with Mindful Birth doulas
Baby Massage
Introducing siblings
Introducing your baby to pets with Dogs Trust
Choosing childcare
Weaning
What if something happens to my baby?
This is not something that anyone wants to think about, but we do because it is our duty to look after expectant parents, whatever happens. We will always offer a full refund and support anyone who tragically experiences a loss. We partner with Teddy's Wish and Bereavement Training International to ensure all Mindful Birth teachers are knowledge about baby loss and supporting families.
What is the cancellation policy?
Refund Policy:
Up to 6 weeks before the course start date: 75% or the course amount is refundable up until 6 weeks before the course start date. This is to cover venue, parent hub and administration costs.
6 weeks or less: If a cancellation occurs within 6 weeks of your course starting, 50% of the course fee will be refundable. This is to cover venue, PregnaHub™ access to date and administration costs.
2 weeks or less: No refund will be available, unless the space can be filled.
In all cases, an alternative option will be offered which may be in person or on Zoom. We will of course always take special circumstances into consideration, please contact us to discuss.
Follow Us
Instagram is where we share free Mindful Birth
related content straight to your feed.